Wisconsin Public Service (WPS) focuses on safely powering communities across northeast and north central Wisconsin every day. To help the brave men and women who work to keep these communities safe, the WPS Foundation is awarding $50,000 to 27 emergency response agencies through its Rewarding Responders Grant.
"Each year, this grant is a chance for us to say thank you to our first responders for their tireless efforts to enhance safety in our communities" said Tom Metcalfe, president — WPS. "We're proud to support these everyday heroes by providing them the essential tools they need to keep everyone safe."
The WPS Foundation provides its Rewarding Responders Grant annually to help police, fire and emergency medical services (EMS) agencies purchase lifesaving equipment or important training for their members. Among this year's recipients is the Howard Fire Department, which used its grant to purchase a new automated external defibrillator (AED) to help its firefighters assist people experiencing medical emergencies.
"This generous grant will equip one of our primary response vehicles with an AED to protect not only those we serve, but also our members, as cardiac events are the No. 1 cause of death for firefighters," said Ed Janke, fire chief — Howard Fire Department. "Thank you again for showing your support for all first responders."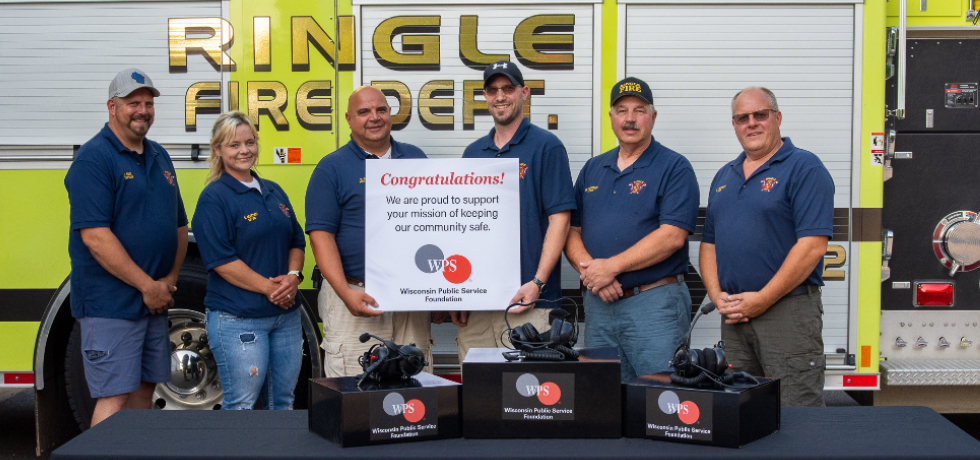 Important tools to help improve safety
Other northeast and north central Wisconsin agencies receiving a grant this year include:
Coleman Fire Department: New firefighting face masks.
De Pere Police Department: Protective shields for officers during active-shooter events.
Oneida County Public Safety Dive Team: Warm weather insulation for water rescue suits
Oshkosh Fire Department: Smoke machine for fire and rescue training.
Ringle Fire Department: New communication headsets for firefighting vehicles.
Stevens Point Police Department: Protective respirators for fire investigations.
Two Creeks Fire Department: New thermal imaging camera
Wagner Fire Department (Wausaukee): Multi-gas detector
"This grant allows our team to purchase new equipment that will make its job easier," said Terri Hook, commander — Oneida County Public Safety Dive Team. "These items may not have been available to us had it not been for this grant. It is only with the help of organizations such as the WPS Foundation that our team of dedicated divers can continue to provide this very important service to the citizens of Oneida County."
Grants helping hundreds of communities statewide
The Rewarding Responders Grant helps strengthen public safety in communities served by WPS. Since the program began in 2014, the WPS Foundation has awarded more than $400,000 to help nearly 230 agencies improve public safety in Wisconsin.
To receive a grant, emergency response agencies must operate in the WPS service area, and must demonstrate the equipment or training they wish to purchase is part of a well-planned public safety initiative. Grants also may be used to fund safety-related projects that are unique, one-time efforts.