Wisconsin Public Service (WPS) is sending more clean energy to its customers with the completion of the Red Barn Wind Park. The new renewable energy facility went into service in April. The project can produce 92 megawatts (MW) of electricity, which is equal to powering more than 50,000 homes.
This is the fourth renewable energy project WPS has brought online since 2020. Red Barn Wind Park is located in Grant County in southwestern Wisconsin. The energy it produces is sent to the grid, providing homes and businesses in northeast and north central Wisconsin with affordable, reliable and clean energy.
"Red Barn Wind Park is another key step in our commitment to build a bright, sustainable future for the customers and communities we serve," said Scott Lauber, president and CEO — WPS. "This facility will provide an important source of clean energy that will maintain reliability, deliver significant savings to our customers and reduce carbon emissions well into the future."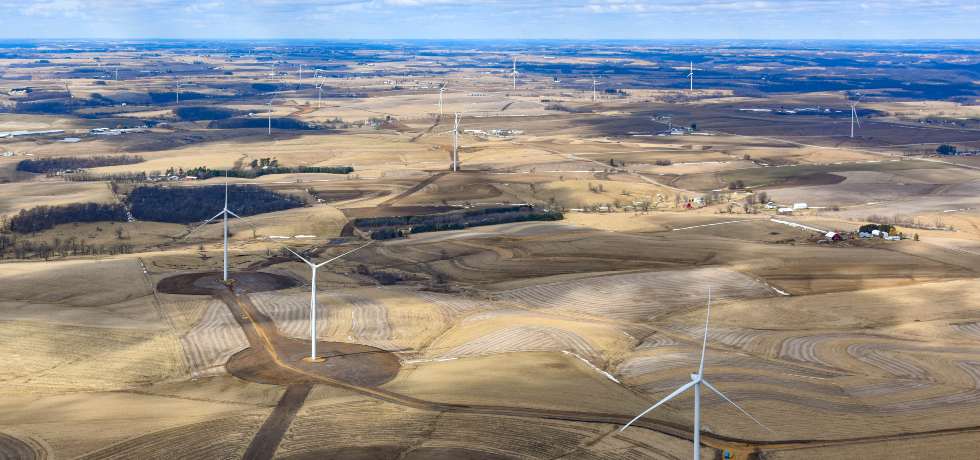 Red Barn Wind Park facts
28 turbines
8,900-acre project area
Up to 3.4 MW of capacity per turbine
Each turbine is up to 552 feet tall
In addition to Red Barn Wind Park, WPS also operates Forward Wind Park near Fond du Lac and owns Crane Creek Wind Farm in northeast Iowa.
Investing in renewable energy in Wisconsin
WPS and its parent company, WEC Energy Group, are continuing to add projects like Red Barn Wind Park to deliver affordable, reliable and clean energy to their customers. Since 2020, the company has brought clean energy facilities online across Wisconsin, including the state's first large-scale solar parks.
Additionally, WEC Energy Group has announced plans to add nearly 3,300 MW of new solar, wind and battery storage facilities in the next five years — quadrupling its carbon-free generation in Wisconsin.
Aggressively reducing carbon emissions
WEC Energy Group's renewable energy investments are part of its focus on delivering a clean energy future. The company's strong carbon reduction goals include:
Reducing carbon emissions 60% below 2005 levels by the end of 2025.
Reducing carbon emissions 80% below 2005 levels by the end of 2030.
Exiting coal as a fuel source by the end of 2035.
Making its electric generation fleet net carbon neutral by the end of 2050.
Red Barn Wind Park is jointly owned by WPS and Madison Gas and Electric (MGE). WPS owns 82 MW of the facility's capacity, with MGE owning 10 MW. The energy produced by the facility is used to serve customers of both companies.
ALLETE Clean Energy developed and built Red Barn Wind Park in partnership with WPS and MGE. Construction of the facility began in May 2022.