Whether Todd Siebold is at work or around town, chances are you'll see his eyes and neck moving frequently, scanning his surroundings. His explanation is both safety-focused and self-deprecating.
"When you get older, you pay attention more," Siebold, a gas utility mechanic with Wisconsin Public Service (WPS), said with a chuckle.
Siebold's focus not only helps him work safely, but is responsible for saving a man's life in Manitowoc, Wisconsin. In December 2020, while driving to his first assignment for the day, Siebold noticed a man running strangely before falling to the ground. Sensing the man may need help, Siebold positioned his vehicle behind the man and kept watching him closely. After falling and getting up a second time, the man fell into a ditch near a wooded area and stopped moving.
Thinking quickly, Siebold called 911 to request help from local first responders in attending to the man. He then parked his vehicle next to the ditch the man had fallen into, and monitored him until Manitowoc Police and Manitowoc Fire Department members arrived at the scene. Officers and paramedics were able to stabilize the man's vital signs before carrying him out of the ditch and transporting him to a nearby hospital.
Safety instincts help stop tragic outcome
While speaking with a responding officer, Siebold learned the man who had fallen was suffering from a drug overdose, and required two doses of the medication naloxone to reverse its effects. The officer predicted that had Siebold not taken action, the man would have died.
"When I saw him run and fall, my first reaction was, 'Something's really wrong here. This just isn't right,'" Siebold said. "I'm glad I was there to help. If not, nobody would have seen him while driving by."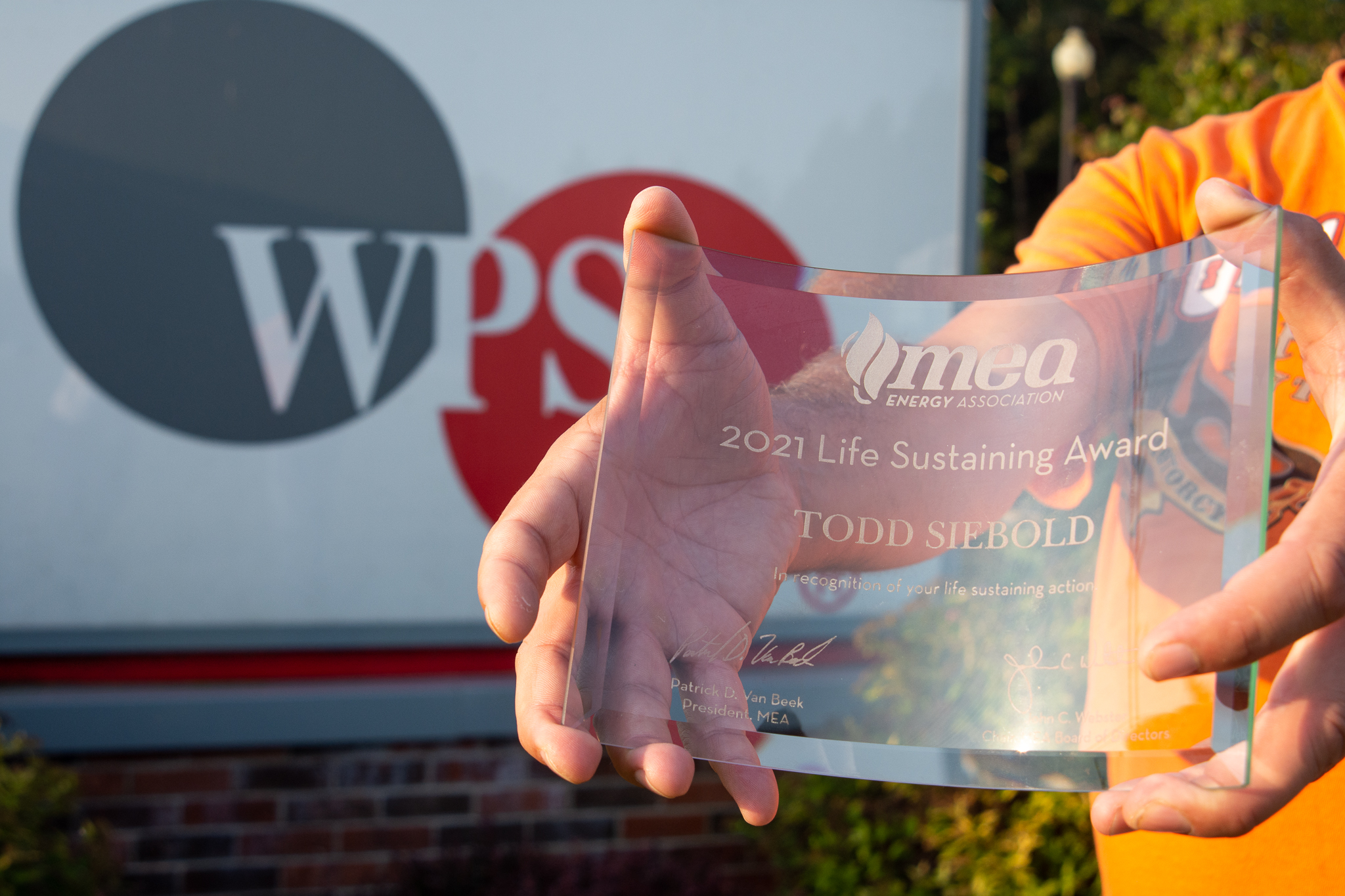 "I'm proud I was able to help somebody out."
Siebold was honored for his extraordinary efforts with a 2021 Life Sustaining Award from the Midwest Energy Association, a regional trade association whose members include WPS.
"There's a lot of people that look the other way when people need help, but I don't feel that's the way it should be," Siebold said. "If there was something happening to me, I'd want someone to help. I'm proud I was able to help somebody out."