They grow up so quickly!  Wisconsin Public Service (WPS) and We Energies are celebrating a milestone year for their popular peregrine falcon program. People around the world tuned in to the live web cameras to watch these endangered birds hatch and grow up.
This year marks 30 years since the first captive-bred peregrine falcons were released from a WPS or We Energies power plant. To celebrate the 30-year anniversary, thousands of customers voted to name this year's chicks after the best of 1992.
So far, 12 chicks have hatched and 10 have been given identification bands. Here are the facts about this year's falcon families:
Oak Creek Power Plant 
Proud parents Michael and Essity welcomed four chicks this year. This is their third year nesting together. Mae, pictured below, is WPS and We Energies' 400th chick born in Wisconsin.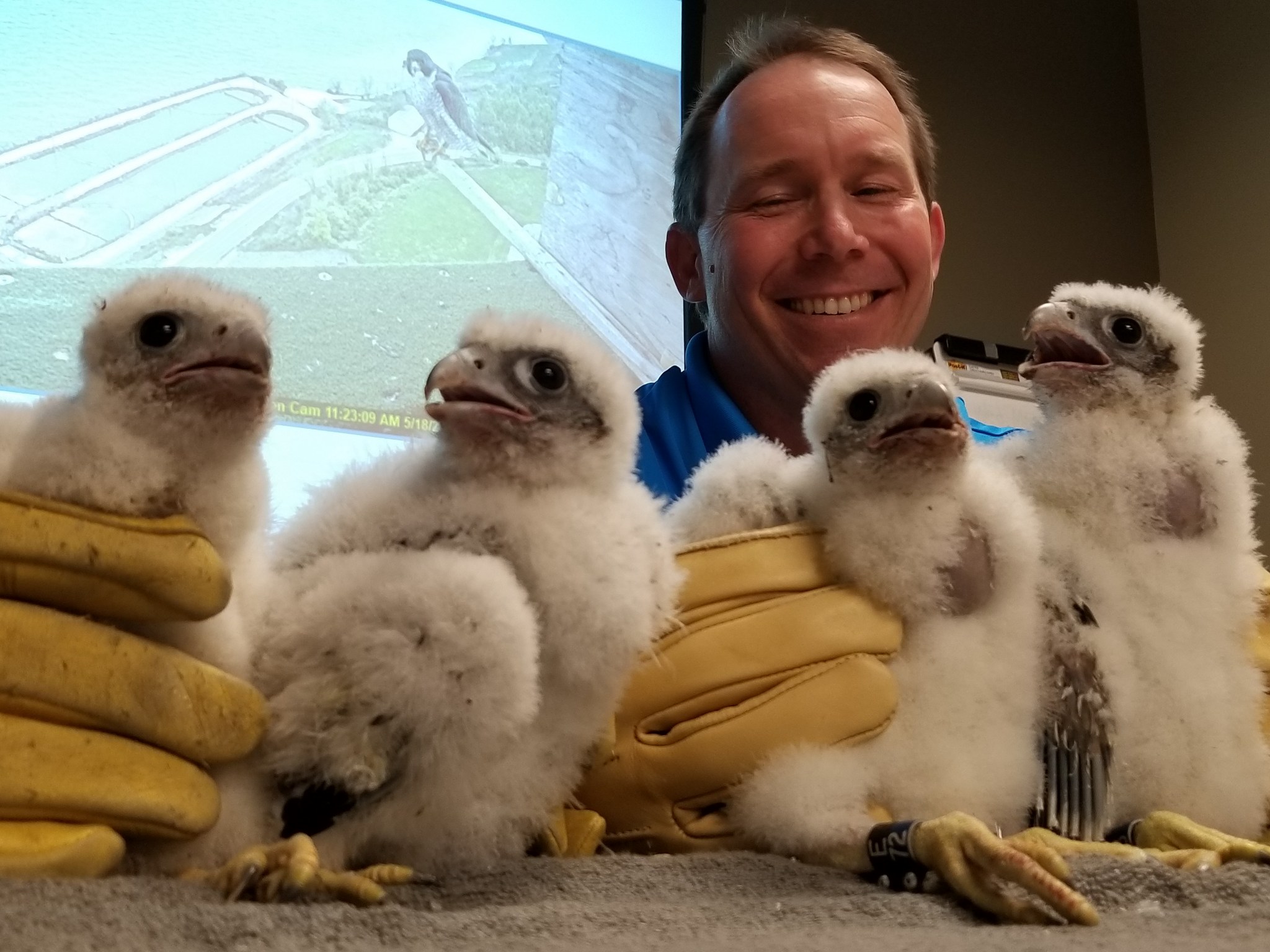 From left to right: 
Favre —in honor of Brett Favre's first year with the Packers.
Mario —in honor of the debut of "Super Mario Kart" in 1992.
Mae —in honor of astronaut Mae Jemison, who orbited Earth in 1992, making her the first Black woman in space.
Whitney —in honor of Whitney Houston's "I Will Always Love You," the best-selling song of 1992.
 Port Washington Power Plant
Brinn and Beasley celebrated their sixth anniversary together at the Port Washington nest box this year. They also welcomed four chicks.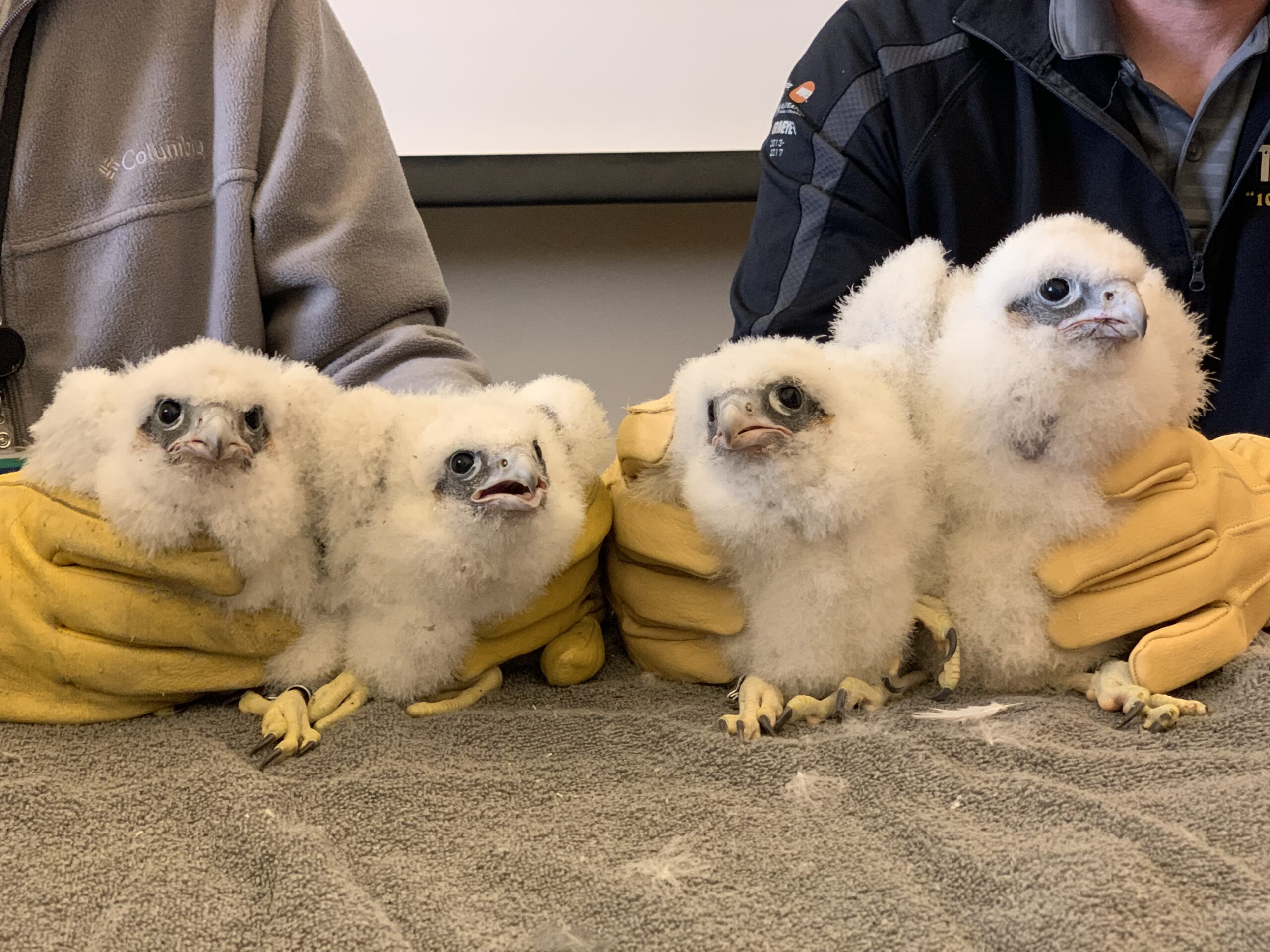 From left to right: 
Jump —in honor of the 1992 debut of "Jump Around," by House of Pain, now used as a rally song by the Badgers.
Barney —in honor of everyone's favorite purple dinosaur, who made his debut in 1992.
Garth —in honor of "Wayne's World," which premiered in 1992.
Golden —in honor of "The Golden Girls," which aired its last episode in 1992.
 Valley Power Plant in Milwaukee
Hercules and an unbanded female welcomed two chicks this year. The company's peregrine falcon manager believes this pair has been nesting together in Milwaukee for nine years.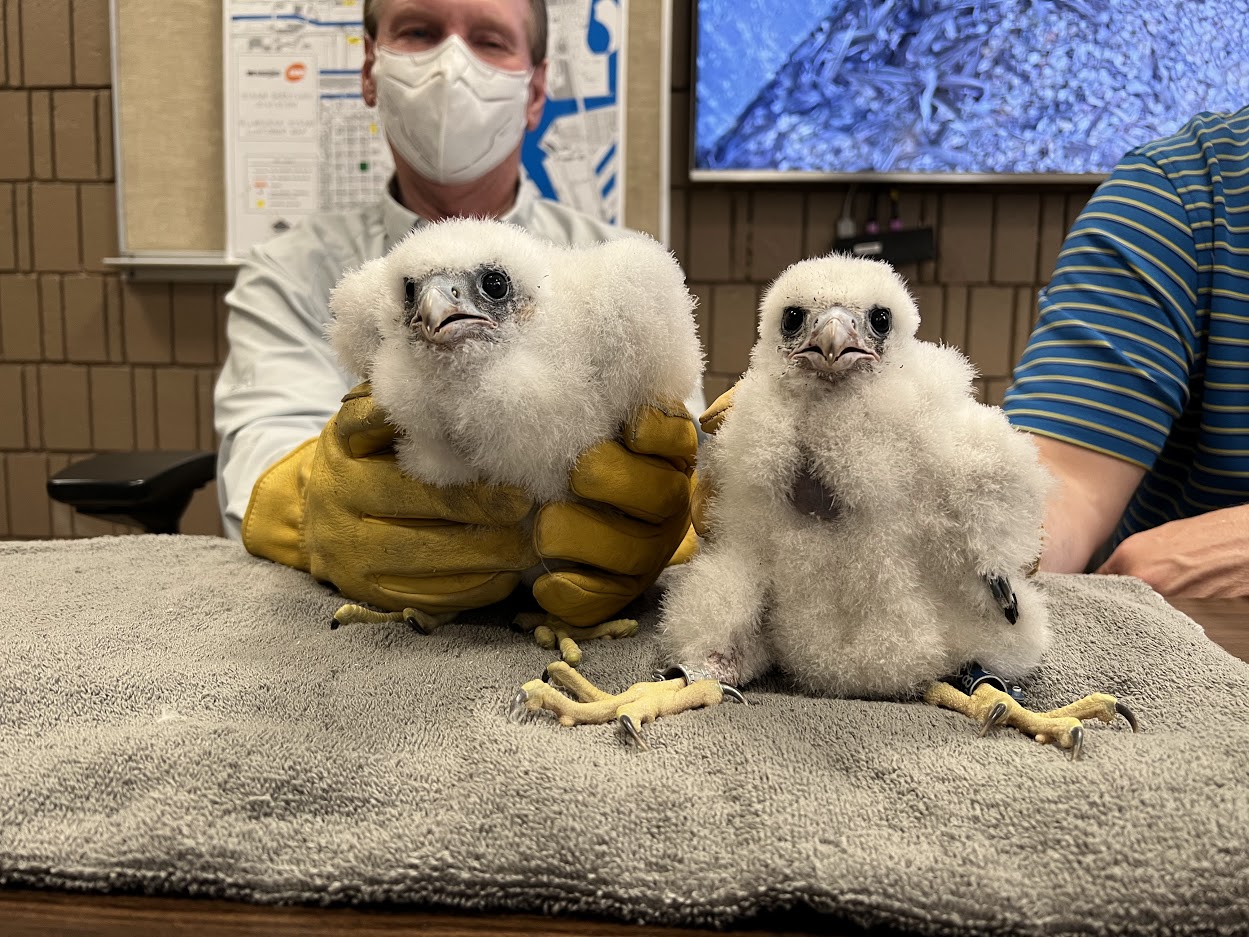 From left to right:
Leap — in honor of the leap year celebrated in 1992.
Flannel — in honor of grunge music and its clothing style that became popular in 1992.
Weston Power Plant in Rothschild
Sheldon and an unbanded female are caring for two chicks so far this year. This is Sheldon's seventh year nesting at the Weston Power Plant, and the first for the unbanded female.
The pair's first chick hatched Thursday, June 2, becoming the 40th chick to have hatched inside the Weston Power Plant nest box. The chicks will receive their names and identification bands later this month.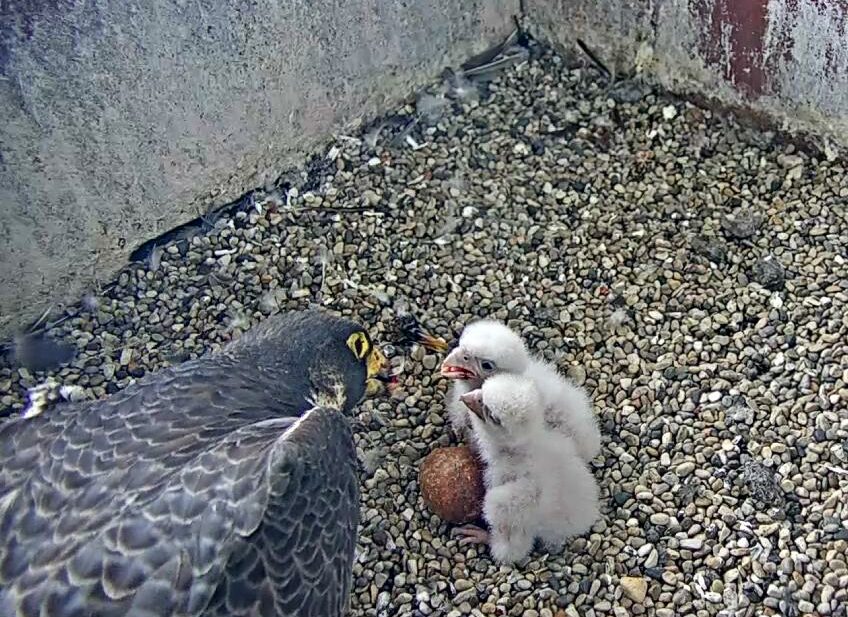 In the meantime, the chicks in southeast Wisconsin have already started to leave the nest, so be sure to tune in to the live nest box cameras before they say goodbye!
About the bandings
A crucial step in WPS and We Energies' peregrine falcon recovery efforts is banding the chicks each year. The companies' peregrine falcon manager places small metal bands on the chicks when they're about three weeks old. The bands allow people to identify the falcon by the combination of colors, letters and numbers. Birdwatchers can then contact the falcon manager and let him know they've spotted one of the peregrines in the wild.
Peregrine falcon program
WPS and We Energies began installing peregrine falcon nest boxes on power plants in the early '90s. So far, 433 peregrine falcons have hatched at WPS and We Energies facilities —20% of all peregrine falcons born in Wisconsin.
This program is another way WPS and We Energies are building a bright, sustainable future. From helping endangered animals and restoring natural habitats, to building new solar facilities and reducing carbon emissions, we are committed to a cleaner future.