Wisconsin Public Service (WPS) is receiving recognition once again for its commitment to providing exceptional satisfaction to its customers. WPS has been named the best midsize natural gas utility in the Midwest for residential customer satisfaction in the J.D. Power 2021 Gas Utility Residential Customer Satisfaction Study.
"Our focus every day is delivering the world-class service that fuels homes and businesses throughout our communities," said Bill Mastoris, executive vice president, customer service and operations — WPS. "We're proud of our employees and their commitment to ensuring our customers receive the affordable, reliable and clean energy they depend on."
Award details
WPS earned the top ranking among midsize utilities in the J.D. Power 2021 Gas Utility Residential Customer Satisfaction Study. In addition to having the best overall customer satisfaction, the company received best-in-class rankings for safety and reliability, billing and payment and corporate citizenship.
The J.D. Power 2021 Gas Utility Residential Customer Satisfaction Study is based on responses from residential customers of the country's 85 largest natural gas utilities. Together, these utilities serve more than 62 million households across the United States.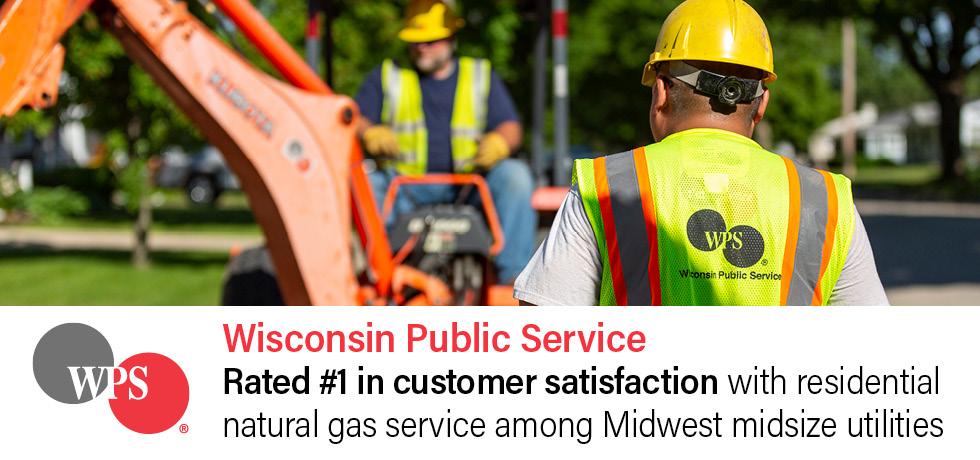 Strengthening our service, support for customers
Throughout the past year, WPS has worked tirelessly to ensure its customers have the reliable energy they need. Along with continuing to upgrade its network and equipment, WPS began providing enhanced customer service options through its app and website. These tools allow customers to quickly review their energy use, receive account alerts and enroll in convenient payment options.
WPS also is building a brighter future for the customers and communities it serves through the WPS Foundation. The WPS Foundation has donated more than $1.5 million each year to support arts and culture, community and neighborhood development, education, the environment and health and human services in northeast and north central Wisconsin.
Honored among nation's best again
WPS' top ranking among midsize natural gas utilities is the company's latest recognition this year. Last month, WPS was honored with ReliabilityOne awards from PA Consulting for most improved reliability performance and outstanding customer engagement. WPS also was named a 2021 Most Trusted Utility Brand in a nationwide study by Escalent.